Stowage of vertical steel coils
Vertical coils are stowed ETTS which stands for "Eye To The Sky".
Introduction
Coils nominated to be stowed this way are usually of higher cost and value compared to regular cold-rolled steel coils. They are also smaller in both diameter and length than other coils. The external packing would be similar to other coils with a steel sheet packing with edge protectors, all fastened together with four to six circumferential and three to four radial steel bands. However, vertical coils are stowed on top of wooden pallets, hence they can also sometimes be referred to as palleted steel coils.
Stowage and Lashing arrangement
Coils must be lashed by certified steel bands, tightened, and sealed with metal joints. Wooden dunnage must be used to chock any free-spaces and to ensure that a solid block must be formed, these dunnages should be nailed together to maximize solidity.
There are two common methods of stowage and lashing arrangements based on the design of the ship's hold:
1. Pyramidal stowage – Stowage in vessels with hopper-type holds
Lashing:
– Side coils are double-lashed: once to the 1st tier and once to the 2nd tier
– The top tier is double-lashed in blocks of 2-4 coils
– Depending on predicted sea conditions, the bottom row may not need lashing but can be lashed for extra pre-caution if time permits
Dunnage:
– Underneath pallets of the top tier to increase stability
– Any large free-spaces must be filled with larger wooden fillings
2. Side-to-side – Stowage in vessels with box-type holds
a) Line stowage: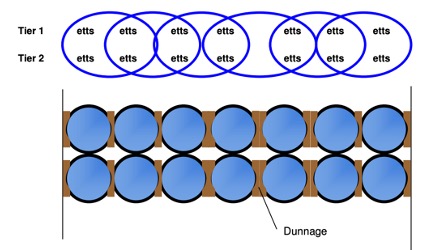 Lashing:
– Coils are lashed by certified steel bands, tightened, and sealed with metal joints
– Coils are lashed in blocks of 2-4 coils
– Depending on predicted sea conditions, the other tiers may not need lashing but can be lashed for extra pre-caution if time permits
b) Honeycomb stowage: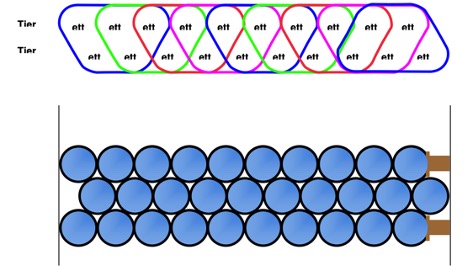 Lashing:
– Coils are lashed by certified steel bands, tightened, and sealed with metal joints
– Only the top and bottom tier is lashed
– Coils are lashed in blocks of 5 coils per above-illustrated pattern
– Depending on predicted sea conditions, the other rows may not need lashing but can be lashed for extra pre-caution if time permits
Dunnage:
– Side coils and 10th key coil will be dunnaged by anti-slip mats
Sources: The American Club: Transport Guidance for Steel Cargoes & Tata Steel: Stowage and securing on seagoing vessels